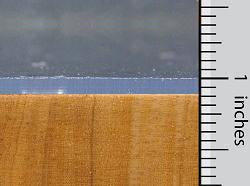 Shipping, Handling and Lead Time:
We can deliver these on a flat pallet if you have a loading dock or a forklift. Otherwise they will come rolled in seperate boxes. 
Lead time is anticipated to be 2-3 weeks from the order date.
Returns:
In the event that your chair mat is defective, is cut from material other than what you selected or is not cut to the dimensions you requested, we will replace it at no cost to you. If this is the case, contact us within 2 to 3 business days of receiving your order and we will relay further instructions on how to return the material.
If you are not satisfied with your mat for any other reason AND you did not customize your mat. We can accept a return. However a restocking fee of $50 per mat will be deducted from your refund. To request a return please contact me by responding to this email within 30 days of receiving your chair mat. If you have had possession of your chair mat for more than 30 days a return will not be accepted. If your return is approved we will reach out to you and relay further instructions. 
Upon receiving the returned mat, we will inspect it for damage and markings. If it is found to be in acceptable condition, we will refund you the cost of each returned mat less a $50 restocking fee. we retain the right to refuse a return for any reason.
You may not be eligible for a return if your mat was customized. We consider a mat to be customized if the original raw material sheet was cut into. One example of this is if you reduced the size of a rectangular mat. Another example would be a non-standard, customized, pattern. We also consider Beveled Edges and Venting to be customization. Non Customized mats are eligible for return, subject to the restocking fee, if they do not have a Beveled Edge or Venting.
Mats are not returnable for improper fit due to a customer's measuring error. However, if the improper fit is a result of our measurement error or if we cut the mat incorrectly, we will gladly refund or replace the mat. We retain the right to determine what is and is not an improper fit. 
Kim Keller | Custom Bulk Order | Qty(20) 42" X 96" NonStudded | Clear .125 Inch Vinyl | No Bevel
Add to Cart button will not be activated until required fields are completed.