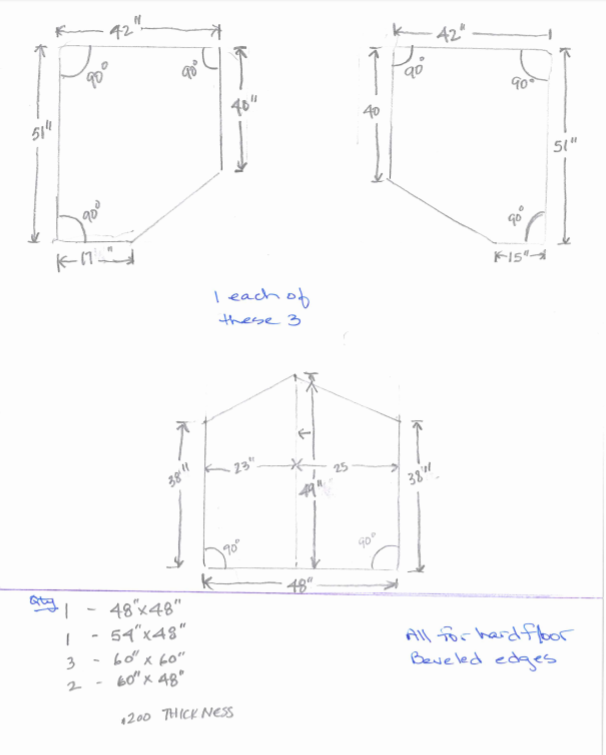 *Not included in this drawing is a request for one additional 54 X 60 nonstudded clear vinyl mat. This mat has been taken into consideration in the quote. 
Before you purchase I wanted to make sure I draw your attention to the following. On your drawing, at the bottom you requested .200 material, however you stated that this is for hard floors. Our .200 material is for carpeted floors and has studs. It would not work for hard floors. Our Clear Nonstudded material is the best option for hard floors. It is approximately 12.5% of an inch thick. I have drawn up this quote assuming you want the .125 Clear Nonstudded vinyl material and not the .200 material. Please note these mats will be shipped rolled and may take a day to flatten out after you receive and unpack them. 
Raw Materials (All .125 Nonstudded Clear Vinyl Floor Mats):
QTY (2) 45 x 53  $223.50
QTY (5) 48 x 60  $625.80
QTY (4) 60 x 60  $703.60
Subtotal:             $1,552.90
Beveled Edge:   $150.00
Grand Total:      $1,702.90
Sue Schwichtenberg Custom Order | QTY (11) .125 Nonstudded Vinyl Chair Mats
Add to Cart button will not be activated until required fields are completed.